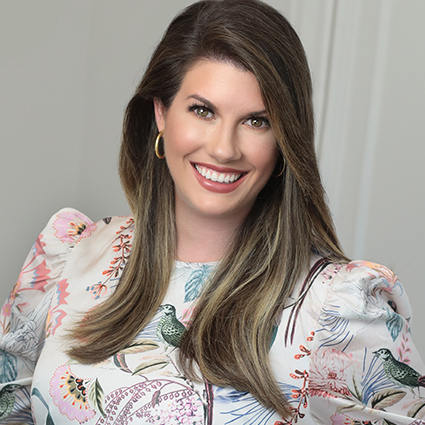 Lauren Foley-Sumnicht
REALTOR®
A little about me
and why I love real estate
Raised in Atlanta by one of the region's premier luxury real estate brokers, Lauren Foley-Sumnicht was groomed for a career in the industry before she was even old enough to vote. Lauren has called Austin home for over 5 years and has family ties that run deep in the booming Austin metro. Lauren has been a top producing real estate professional dedicated to the luxury real estate market in Austin and throughout the globe. She serves her clients and her community as a member of the DMTX team at TexasLand, offering a curated collection of Central Texas's most exceptional properties and land. With an unparalleled knowledge of luxury properties and international business relations, Lauren offers her client's market-wide expertise throughout Central Texas. Lauren exudes warmth, integrity, and energy with her hard work and pulse on Austin's luxury market.
Lauren began her real estate career at Concierge Auctions and quickly became a top producer with over $80M in personal sales volume. Through hard work and focused determination, she has established herself as a figure within the luxury real estate sector. While Lauren's past clients include NFL Hall of Famers, Fortune 500 CEOs, Hollywood Actors, and Wall Street Moguls, she prides herself in helping her clients reach their real estate goals at any price point. Well-respected within her community, Lauren does everything in her power to ensure her buyer's and seller's success. Her resourcefulness and staging skills assist her clients to maximize the value of their home.
Lauren earned a Bachelor's Degree in Communications from the University of Alabama and Roll Tide will always be a part of her vocabulary. Having traveled to over 26 countries, lived and trained internationally, and sold properties in Europe, Morocco, and the Caribbean, Lauren has gained an unparalleled knowledge of different cultures and real estate markets throughout the globe. Her love of nature and Southern Culture has given her a deep appreciation for Austin's sense of place – perhaps the most invaluable attribute of the city's luxury real estate.
Lauren and her husband, Dan, have an active life in their community. They are members of the Austin Stone Church congregation and several non-profits. Additionally, Lauren serves her community as a dedicated member of the Junior League of Austin. Lauren and her family enjoy their leisure time exploring the Hill Country together or adventurous vacations.
Lauren has experienced first-hand the growth and transformation of Austin. Using her in-depth understanding, knowledge, and training, she helps clients make highly informed decisions about community and helps them choose a home that synergistically meets their needs, dreams, and lifestyles. She has an innate understanding of her clients and generously extends the resources necessary to facilitate the realization of their dreams in real estate holdings. If you are a buyer, seller, or investor, Lauren's integrity and energy will ensure you meet your real estate goals all while staying Authentically Austin.
Our clients are awesome
and here is what they are saying
"Lauren is beyond a class act! Her professionalism shines and when tough situations occur she rises up and gets it handled. She works well with a team, attends to her client concerns and supports a company's goal. Lauren is detail orientated, driven, and is a pleasure to work with as a colleague. Luxury real estate is not for the faint of heart and Lauren handled it with ease. She's a star!"
"Inherent to Lauren's role is constantly dealing with ultra-high net worth clientele, which given the value of the assets we are entrusted with selling, requires the highest levels of professionalism and composure in often high-pressure sales negotiations. Given the caliber of our clients, they demand nothing short of the best, which Lauren is able to deliver. Lauren always exhibited awareness, control, expertise, and was quick to understand and act on any given situation."
"As we listed our home Lauren exuded hard work and professionalism. Lauren has an amazing eye, calm demeanor, and sense of humor that helped us immensely. We are so grateful!"