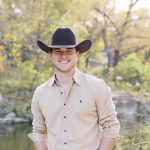 Stieler Harris
REALTOR® Negotiations Expert
A little about me
Stieler is a born and raised Texan whose roots trace back to the heart of the Texas Hill Country. He has a background in oil & gas, real estate, and ranching. He graduated from the University of Texas at Austin with a degree in Supply Chain Management from the McCombs School of Business. After College Stieler entered into real estate as an analyst for Lennar Home Builders, specializing in underwriting land acquisition deals in the greater Austin area. Through his time at Lennar he was able to gain valuable experience in the Austin real estate market and is now applying those skills to his true passion: farm and ranching.
Stieler is a lifelong rancher and hunter who grew up working on his family's ranch in the Texas Hill Country. He is devoted to the dream of property ownership and has experience and knowledge to share with clients about not only the type of properties to acquire, but also how to implement efficient land management practices to ensure a legacy is left behind.
Stieler currently resides in Austin, TX and enjoys hunting, shooting, wake surfing, UT sports and spending time with his friends and family.