If you're planning a trip to Austin, or are in need of a stay-cation, we've rounded up our list of the 6 most incredible Airbnbs near Austin. Whether you're looking to explore Hill Country, Fredericksburg, North or West Austin, we've got you covered!
1) SKYHOUSE Canyon Lake: Private Pool and Lake Views Live Oak Treehouse at HoneyTree Farm 
Just a few miles southwest of Austin and to the northeast of San Antonio is a popular town known as Canyon Lake. This central Texas location is a pleasant mix of greenery that still embraces the Texas open sky horizons and arid clarity. Situated on a hillside surrounded by spectacular views is the Skyhouse Canyon Lake AirBnb. This breathtaking villa, hosted by Trace, boasts a 4.93 rating on AirBnb.
This amazing abode is actually a skyhouse that overlooks Canyon Lake's panorama of central Texas. The outdoor pool needs no heat thanks to Texas's typical warm climate but if you're chilly, you may choose to enjoy the new jacuzzi.

Photo from Airbnb, book here
2) The Bloomhouse by Lodgewell
Also scoring an impressive 4.88 on a scale of 5 stars is this unique — and almost bizarre architecturally shaped — facility gives the impression that an artistic giant poured white plaster/paint over some geometric shapes.
The designers of this extravagant fairy-tale like abode describe the design of this structure as "quixotic," meaning exceedingly idealistic, unrealistic and impractical. They want guests to be left with a lasting impression and with photo opportunities like no other.
This one-bedroom, one-bath house on the west side of Austin will comfortably accommodate up to four people and long term stays are available.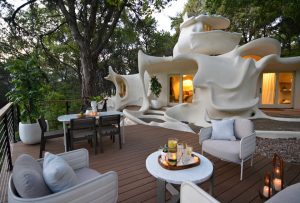 Photo from Airbnb, book here
3) Live Oak Treehouse at Honey Tree Farm
This bed and breakfast's name relays its sweetness: this one-bedroom bungalow provides everything you need for a memorable and relaxing stay when you are west of Austin and planning for a Fredericksburg vacation.
How many of Austin rentals can boast a solid 5.0 stars from over 200 reviews? The live Oak Treehouse at Honey Tree Farm is obviously doing something right because that's exactly what they have.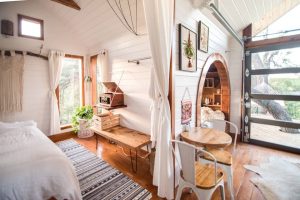 Photo from Airbnb, book here
4) Modern A-Frame Cabin in Nature: What a perfect opportunity to stay in an A-frame just to experience the thrill of always wanting to experience an A-frame! This Fredericksburg Air Bnb is a scenic and affordable dollhouse for your Austin Staycation. Everything  you need, including the fabulous scenery, is there on site.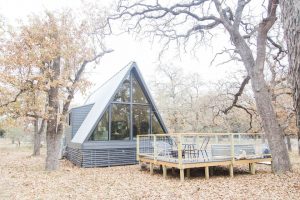 Photo from Airbnb, book here
5) Geodome Private Getaway Research the term "Geodesic" on the internet, and you will likely be informed that "A geodesic dome is a hemispherical thin-shell structure based on a geodesic polyhedron."(1)
However, you can become much better informed when you book a stay at the Geodome Private Getaway just northwest of Austin offers sky views lined with trees and proximity to a lake. Although the nightly rate may at first seem a bit steep, take into consideration that this "gigantic golf ball of comfort" accommodates up to twelve guests with its impressive four bedrooms and three baths (three sleeping sofas)!
This architectural fascinator was originally built in the 1970's but was completely remodeled in 2020 and fully equipped with smart devices. This property has easily pulled a comprehensive 5-star rating!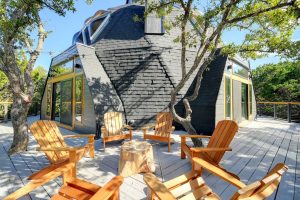 Photo from Airbnb, book here
6) Hill Country Hammock House
Just west of the hustle and bustle of Austin, a stay at Hammock House in the hill country of central Texas will leave you with fodder for conversation for years to come. Why is it called the Hammock House? Logically, you can step from your balcony into a giant hammock and bask in the scenery. If you prefer, you may opt for a bath in the outdoor footed tub!
This is not your typical bed and breakfast accommodation and that is obviated by the solid 5-star rating.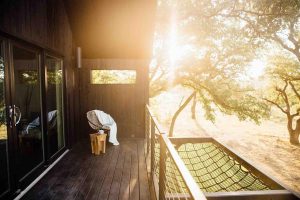 Photo provided by Airbnb, book here