Indulge in a captivating lifestyle where serenity meets sophistication – welcome to waterfront living in and around Austin, Texas. Nestled among the awe-inspiring landscapes of Lake Travis, Lady Bird Lake, and Lake Austin, you'll find the perfect escape to a tranquil retreat. Whether you dream of waking up to stunning sunrises from a contemporary lakeside condo or desire the grandeur of a sprawling waterfront estate, the diverse options available are as vast as the Texas horizon.
Immerse yourself in the peaceful embrace of nature, enjoy lakeside dining, and relish endless recreational opportunities just minutes away from the vibrant city life of Austin. In this blog, we will uncover the allure of waterfront living and explore why it's the ultimate haven for those seeking unparalleled views, relaxation, and a thriving community. Come along as we delve into the magic of waterfront living and discover how it can transform your life in Austin, Texas.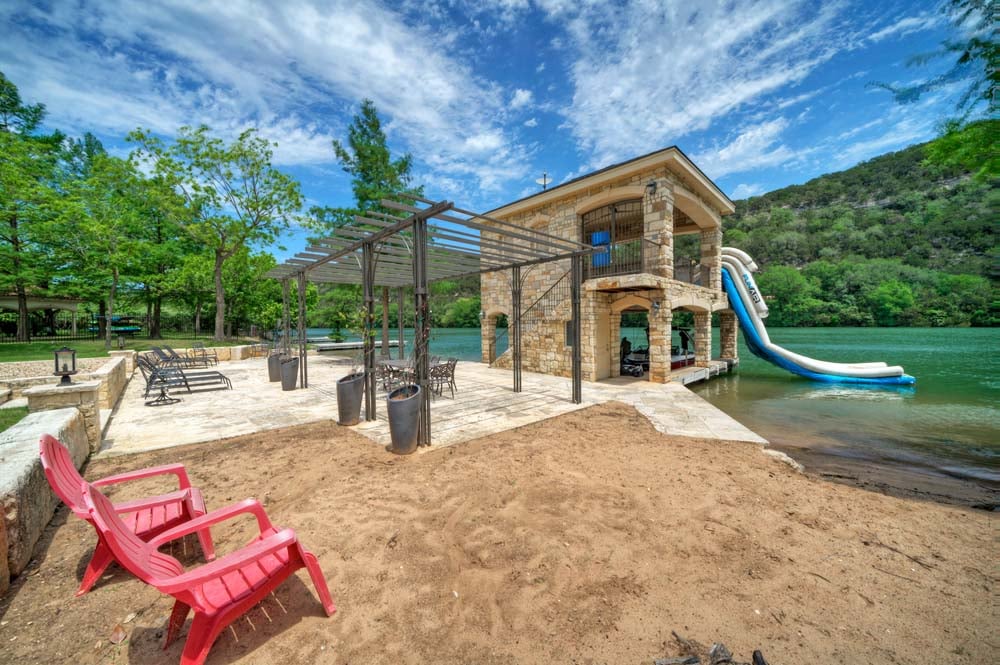 The Tranquility of Austin Waterfront Living
Austin boasts many stunning lakes, including Lake Travis, Lady Bird Lake, and Lake Austin. Each offers unique charm and picturesque scenery, providing the perfect backdrop for a tranquil retreat. Whether you desire a contemporary lakeside condo or a sprawling waterfront estate, the options are as diverse as the Texas landscape. Wake up to stunning sunrises, enjoy lakeside dining, and immerse yourself in the peaceful embrace of nature – all while being just minutes away from the vibrant city life of Austin.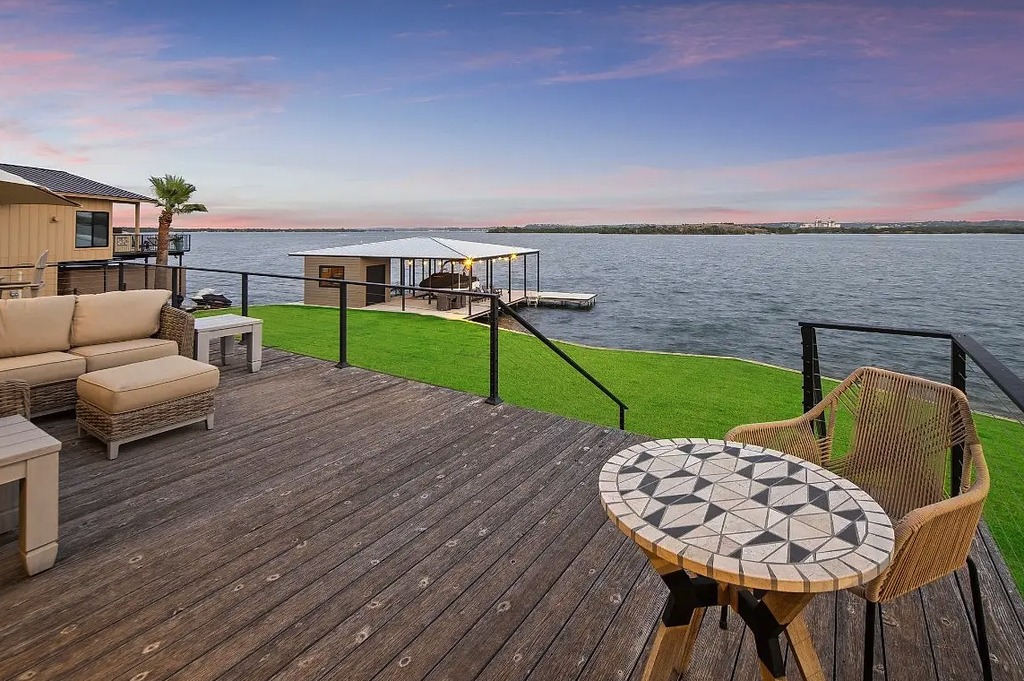 Endless Recreational Opportunities
Waterfront living around Austin means never-ending opportunities for outdoor adventures. Spend your weekends boating, fishing, kayaking, or paddleboarding on the pristine waters. Explore the hidden coves and hiking trails that dot the shores. With the abundance of parks and recreational areas, you'll have a playground to create cherished memories with family and friends.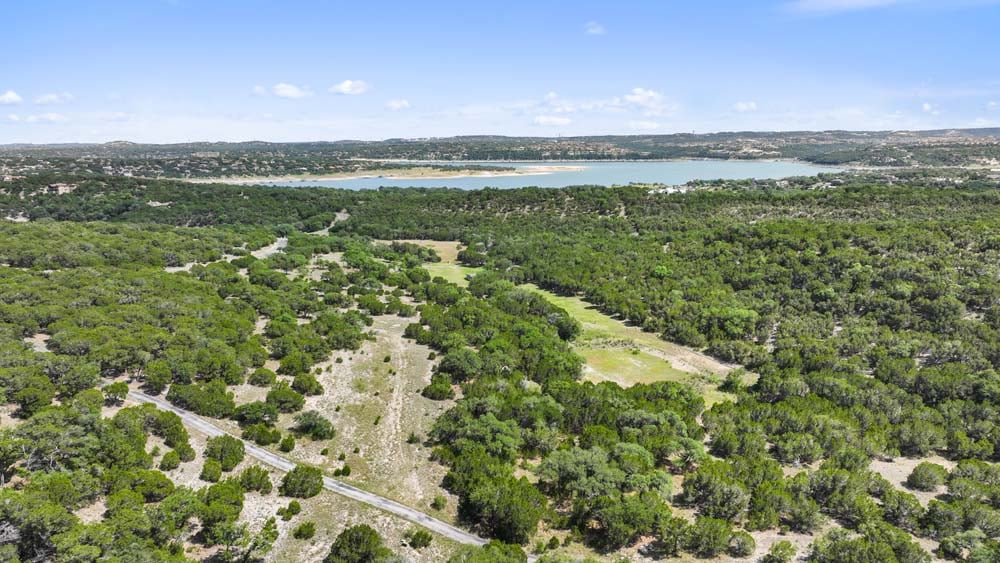 Prime Real Estate Investment
Waterfront properties have historically shown strong appreciation in value over time. Owning prime waterfront real estate is not just an opportunity for an exceptional lifestyle; it's a savvy financial decision. As one of the fastest-growing cities in the U.S., the demand for waterfront homes is on the rise. The combination of scenic beauty, recreational opportunities, and proximity to Austin's dynamic economy makes waterfront properties highly sought after. Enjoy the best of both worlds – a luxurious lifestyle and a sound real estate investment.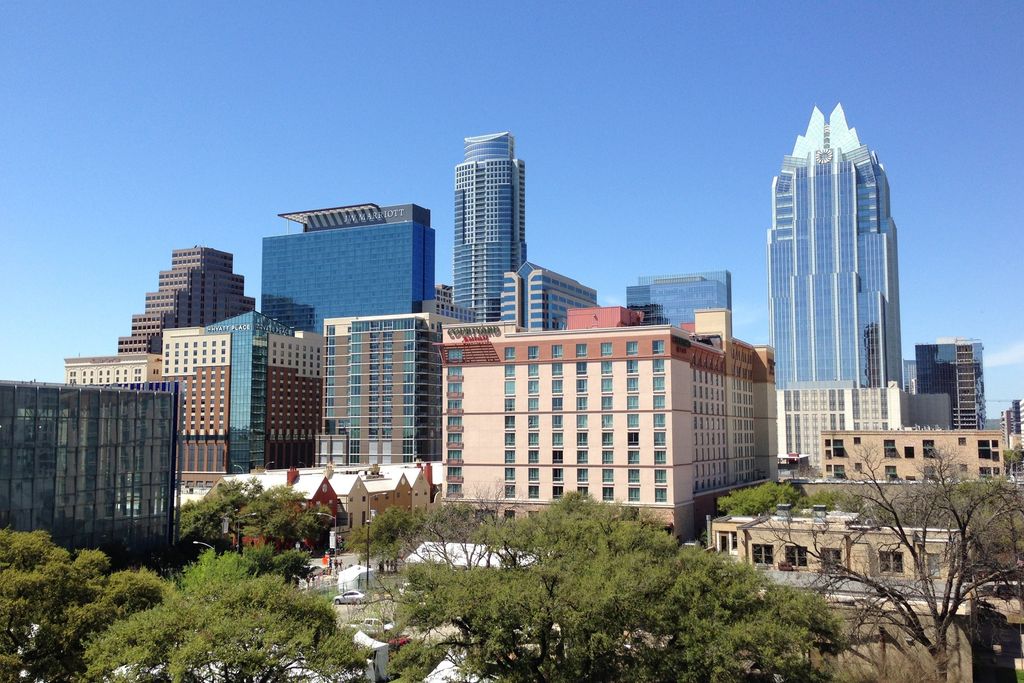 The Austin, Texas Lifestyle
Living near the water in Austin means you're at the heart of a vibrant cultural scene. Experience the renowned live music, savor the diverse culinary delights, and immerse yourself in the eclectic arts and entertainment scene that Austin is famous for. The city's energy and creativity blend seamlessly with the tranquility of waterfront living, offering an unparalleled lifestyle.
Waterfront Communities: A Sense of Community
Waterfront communities in and around Austin foster a strong sense of belonging. Engage with like-minded individuals who share your love for nature and water activities. Many of these communities offer exclusive amenities such as private docks, lakeside parks, and community events, creating a close-knit environment where you can forge lasting friendships.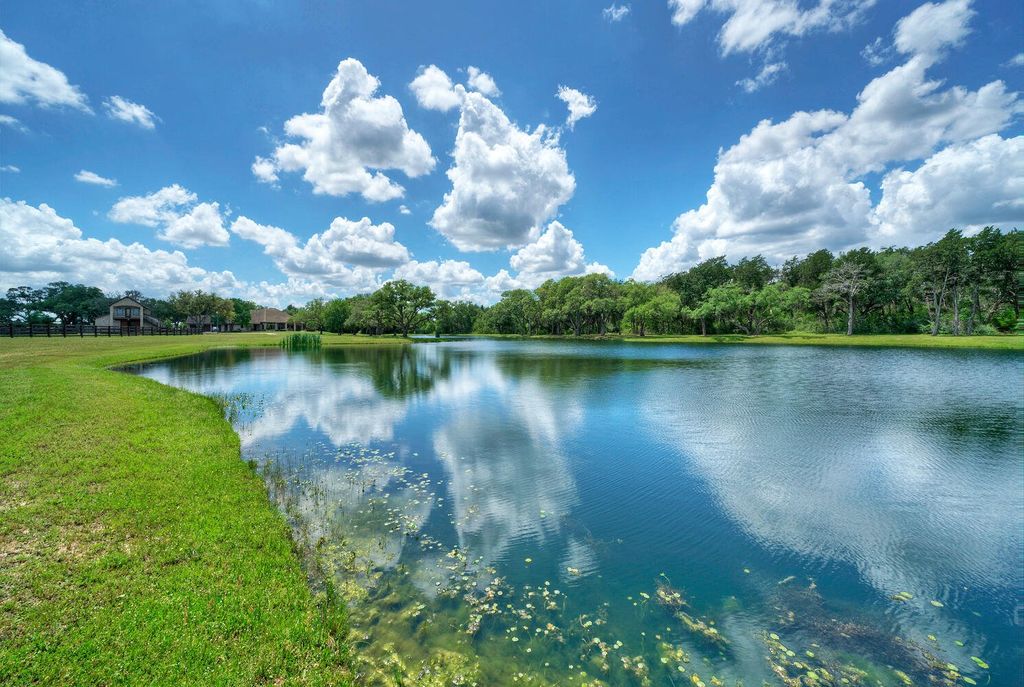 Preserve Nature's Bounty
Living by the water means being intimately connected to the natural world. Waterfront living encourages a sense of environmental stewardship and an appreciation for the beauty of Texas' diverse flora and fauna. Enjoy birdwatching, spot native wildlife, and contribute to preserving these natural wonders for generations to come.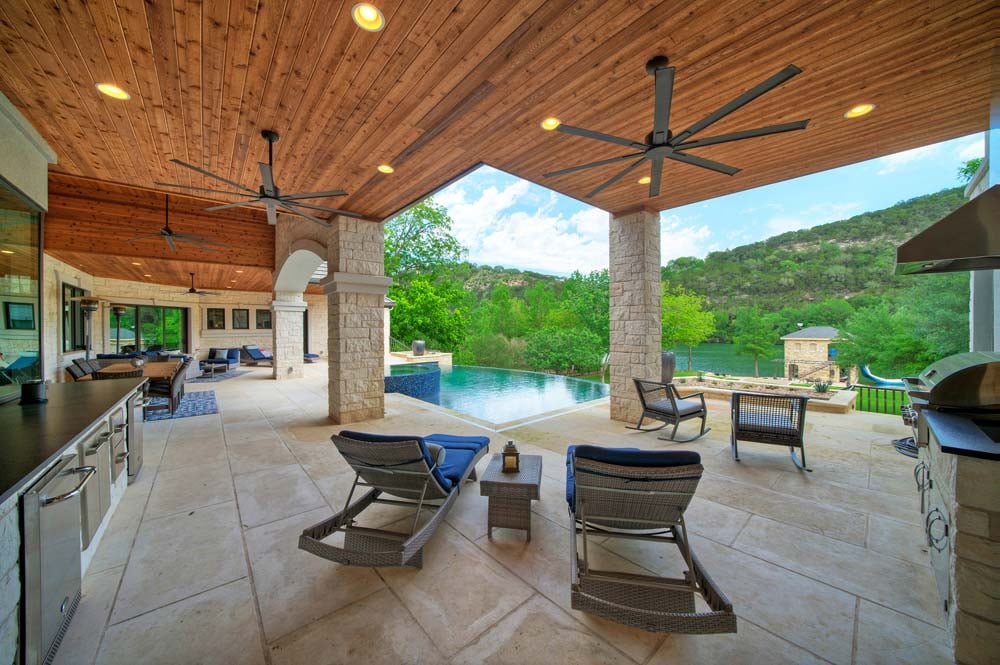 Unparalleled Views
Picture yourself sipping your morning coffee while being greeted by a panoramic view of glistening waters. Living by the waterfront offers unparalleled scenic beauty that changes with the tides and seasons. Whether it's a serene lake, a winding river, or an expansive ocean, waterfront properties provide an ever-changing canvas that transforms how you experience your home.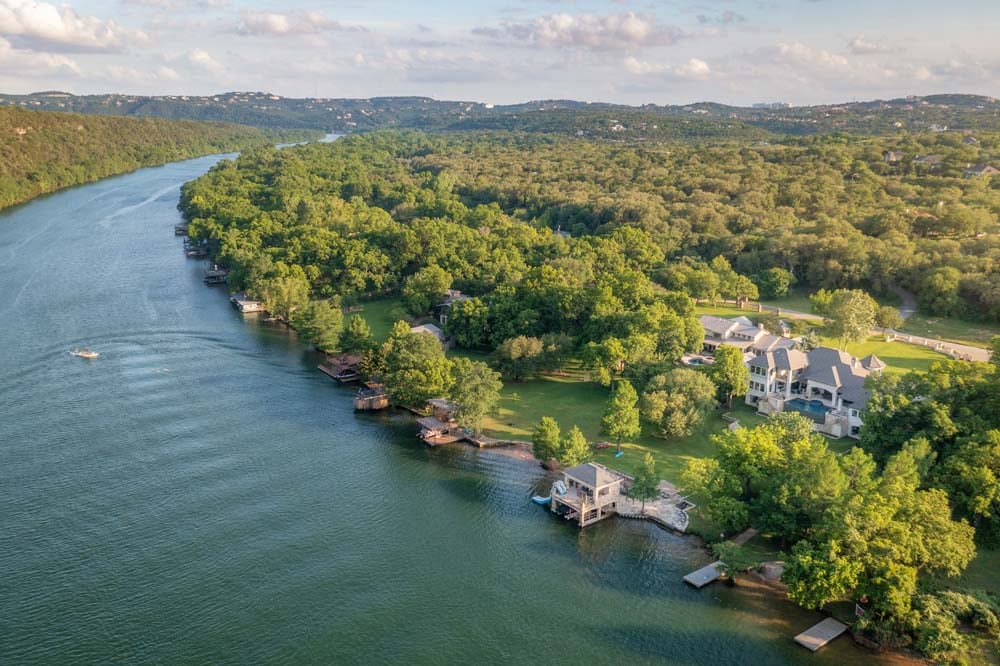 Privacy and Exclusivity
Escape the bustling city life and find yourself in a secluded oasis with waterfront living. Enjoy privacy and exclusivity as many waterfront communities are gated and offer controlled access. This creates a secure environment that allows you to unwind and revel in your surroundings' beauty without interruptions.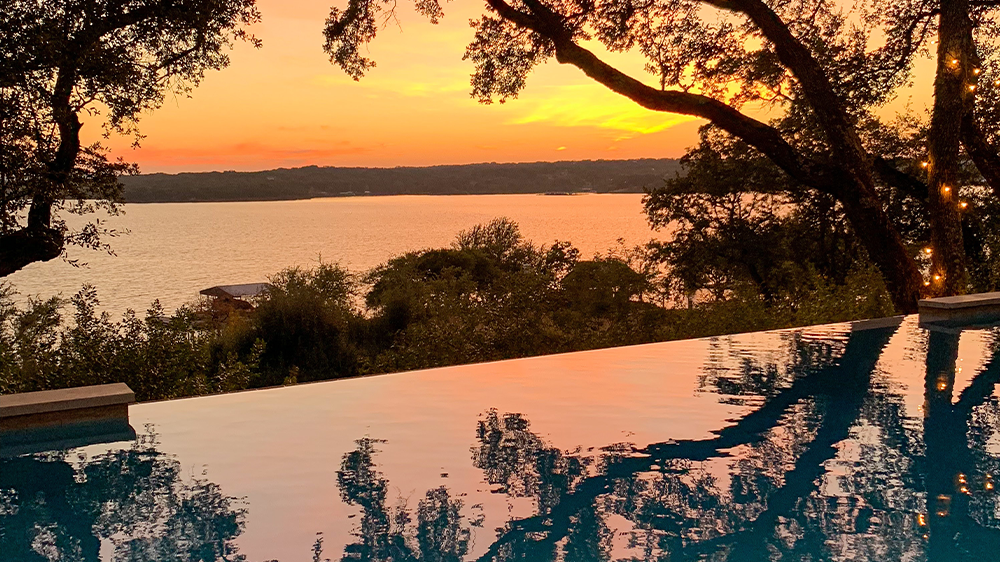 Health Benefits
Living by the water offers more than just beauty and relaxation. Research has shown that waterfront living can positively affect physical and mental health. The fresh sea breeze, proximity to nature, and opportunities for outdoor activities contribute to reduced stress levels and an overall improved quality of life. Learn more about the many benefits of waterfront living in this article.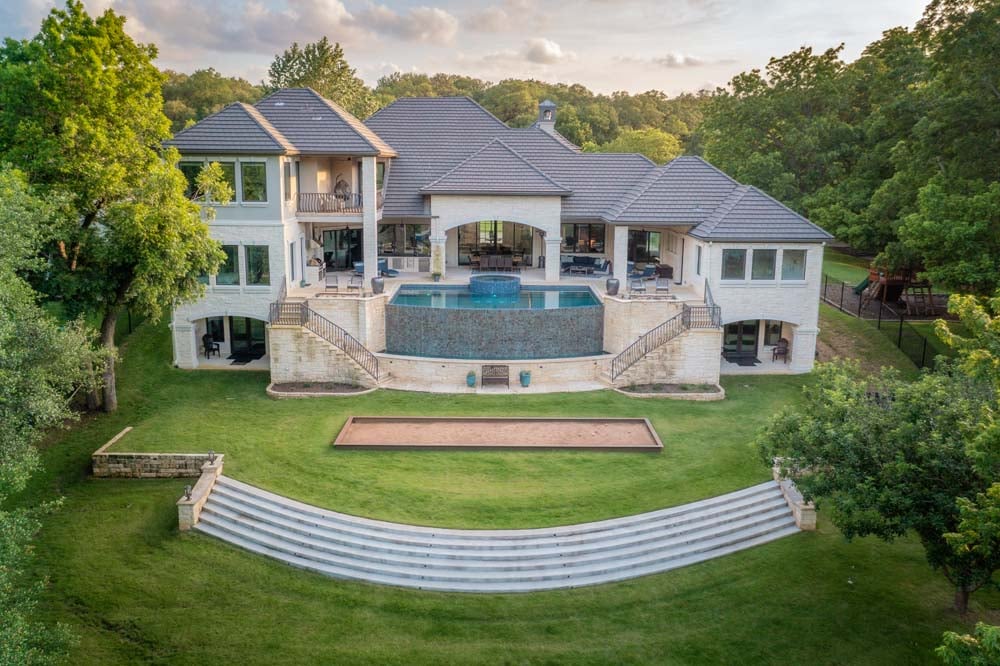 Find Your Austin Waterfront Property
Cliffs Edge at Bella Lago, an amazing 2+ acre waterfront estate on Lake Austin, accessed off River Hills Road in Westlake/Eanes ISD.
The estate takes its name from the cliff across the lake.  An incredibly serene setting where you have no home across the lake and no home across the road from you. Set in a private enclave at the very end of the road of only three homes. The property is accessed by a narrow lane to enhance privacy. Built in 2018 by custom home builder Richard Bright and custom designed by Steve Todd of Austin design group. This contemporary modern home features six bedrooms, six full bathrooms, and three half baths. There are two suites on every floor. A large game room, bar, and entertainment area reside on the lowest level. The home also features four separate laundry areas, one on each level and one in the master suite.
In this highly coveted gated waterfront community of Angel Bay is a nearly 9-acre wooded estate. The lot offers great building sites, lake views, and very usable land with plenty of room for the family compound. Lakefront access conveys with two deep water boat slips. Horses are permitted. Very exclusive area of multi-million dollar homes and waterfront Estates all on acreage home sites feeding to exemplary schools in Lake Travis ISD. Nearby waterfront community park for residents only. A very short golf cart ride away. This is a rare opportunity for this much acreage in one of the nicest gated communities on Lake Travis. 15 minutes to Hill Country Galleria, movie theaters, restaurants, and multiple shopping and entertainment areas, and 40 minutes to downtown Austin.
Want to check out some more? Find all waterfront properties by clicking here!
So, whether you seek unparalleled views, relaxation, a thriving community, or a savvy investment, waterfront living in Austin, Texas, promises to transform your life in captivating and enriching ways. Allow yourself to delve into the magic of waterfront living and let it redefine your lifestyle, making every day a new adventure filled with serenity and sophistication. Reach out to our real estate experts today, and let us help you find your perfect sanctuary by the water's edge. The wonders of waterfront living await you in vibrant Austin, Texas.