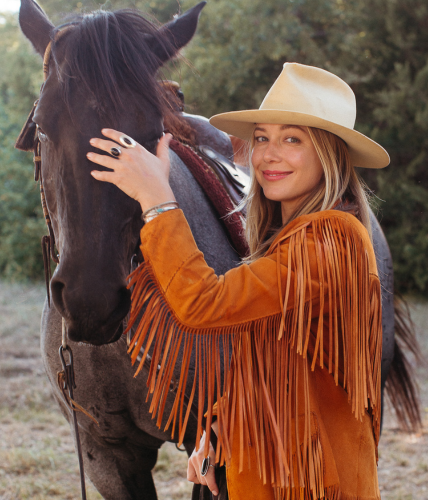 Hannah is a 4th-generation Texan, who comes from a family of merchants and farmers that contributed to shaping North Texas.
Growing up, her parents owned a 600+ acre ranch in Bosque county in a quaint Norwegian town called Cranfills Gap. Weekends were spent with her extended family, working their herd of Charolais cattle, riding horses, camping and hunting for arrowheads and fossils that lie hidden in the limestone creek that ran through the land.
"The Ranch" as we called it, was heaven to me, and during this time, my love for the Texas landscape and way of life took root."
"In college, I lived on the ranch alone; just me, my horse and the cows for an entire year. Though it could get quiet, I filled my time with trail riding, fossil and arrowhead hunting, plowing the fields and keeping the cows content. During this time, I learned the value of hard work and pouring blood, sweat and tears into a piece of land that you are bound to."
"I've always been obsessed with horses and land, and it's a dream to help others buy and sell their ranches. I look forward to helping you find a wide open space to live out your dreams…a place that feels like home."
Hannah Francis is a licensed Texas Real Estate Agent. She specializes in ranch, residential and investment property in North Texas, representing both buyers and sellers in luxury real estate transactions. She helps clients navigate and conquer the Texas property market through thoughtful marketing, intentional relationships and true southern grit, all with a smile on her face and in a pair of vintage Wranglers.
Contact Hannah Francis
& DMTX Realty Group
Hannah Francis' Active Listings