Everyone knows Austin as one of the music Capitols of the US , but did you know Austin has a bounty of outdoor activities for local and visiting tourists to enjoy? Austin is a prime location for weekend outdoor fun. With spring temperatures descending upon Austin, it's prime time to plan some Austin outdoor activities. We've come up with a copious amount of information on local businesses that feature the best in fun in the sun Austin offers.
Boating Fun
Although Austin is about a 3 and a half hour drive to the beach, boating is still a desired outdoor activity in and around Austin. Austin has a bunch of enticing lakes to explore by renting a boat or taking a guided tour.
We've curated a few boating options to check out:
Austin Boat Rentals
5019 N. Capital of Texas Hwy.
Austin, TX 78746
512-957-1444
Austin Boat Tours offers tours on one of their many pontoon rentals and ski boats on Lake Austin. Guests reserve a fully captained boat rental with a $100 refundable deposit. The boats come equipped with a foam pong table and Auqa Lilly Pad to keep passengers entertained, along with an extra-large cooler including ice and water. Each tour hosts up to 32 people at a time. The tour pickup point is only a fifteen-minute drive from the heart of Austin at the Loop 360 Boat Ramp, or guests have the option of arranging for pickup locations.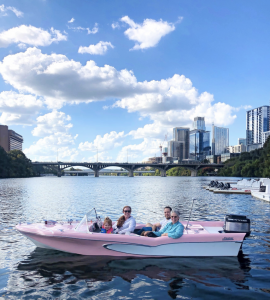 Photo courtesy of retroboatsatx.com
Retro Boat Rentals
74 Trinity St. Austin, TX 78701
512-663-5145
Sail on Town Lake with Retro Boat Rentals in one of their several restored vintage fiberglass boats to their original mid-century beauty. Dog-friendly, kid-friendly Retro boat rentals accompany up to four passengers for a one-hour and thirty-minute cruise. Boats come equipped with anchors, paddles, life jackets, and a blow horn. Reservations, required, are made via the website by midnight on the night before the desired date, and walk-up rentals are accepted prone to availability.
Float On
Lake Travis Boat Rentals
16405 Clara Van Street
Austin, TX 78734
512-436-3505
Float On boat rentals maintains the highest rating. It has competitive rates, a new fleet of boats, and the friendliest staff in Austin. Float On takes care of all the planning for guests to host a team, create a romantic date night, or have a party with friends and family. Float On tours meet at Hurst Harbor Marina on Lake Travis and accommodate twelve to sixteen passengers depending on the specific boat rental.
Swimming Fun
If swimming is your forte, then Austin has plenty of locations to enjoy. Beat the Central Texas heat in some of the most incredible, most refreshing places within miles of the city.
We've come up with a few spots to take the plunge, including swimming pools, parks, springs, falls, and more: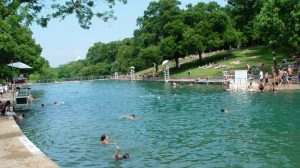 Photo courtesy of austintexas.gov/department/barton-springs-pool
Barton Springs Pools
2131 William Barton Dr.
Austin, TX 78746
512-974-6300
The pool is three acres and fed from underground springs with an average temperature of 70 degrees for comfortable year-round swimming—depths of the pool range from 0′ to 18′ with surrounding grassy lounging areas. There's "Splash," where patrons get educated about Barton Springs' history and the Edwards Aquifer, which feeds it within a short walk. Season passes are a great way to enjoy those hot summer months. Patrons are to limit time to two hours. Once the pool reaches capacity, new swimmers get permitted into the pool on a one-in/one-out basis.
Deep Eddy
401 Deep Eddy Drive
Austin, 78703
512-472-8546
Deep Eddy Pool is a Regional Aquatic Center located in Austin, Texas. This park is west of Barton Springs and described as serenely peaceful. Currently, Deep Eddy Pool doesn't charge, and the Aquatics Division is not processing season passes at this time. Check the website for times as they vary for lap swim only, cleaning, and maintenance.
Barton Creek Greenbelt
3900 Mopac Frontage Road
Austin, TX 78746
512-477-1566
The Barton Creek Greenbelt contains multiple entrances along the creek for the patron's convenience. The adopted park is famous for swimming, but it's also hiking trails, mountain biking, rock climbing, and bird watching. For more information on accessing the trail or about schedules, park rules, and the Aquatic Master Plan, visit the City of Austin Parks & Recreation Department website.
Golfing and Putt-Putt
Do you like to spend your afternoons out on the green? Whether you want to tee off from a driving range or sink a few balls at a putt-putt course, Austin has a location to appease novice to beginner golfers. The range offers golfers a taste of pro-level-quality teeing. Putt-putt golf offers reasonably priced fun for the entire family.
Here are a few places we've curated to getting your golfing fun on: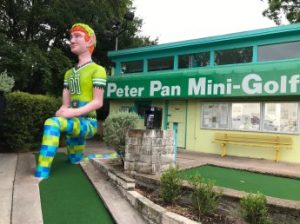 Photo courtesy of peterpanminigolf.com
Peter Pan Mini-Golf
1207 Barton Springs Road
Austin, Texas 78704
512-472-1033
Peter Pan Mini Golf is an Austin landmark featuring a beloved T-Rex overlooking Lamar and Barton Springs in downtown Austin. It takes forty-five minutes to an hour to complete 18 holes, but if you attempt the thirty-six holes, they ask that you arrive in enough time before closing. The Dismukes family locally owns Peter Pan Mini-Golf since 1948. For a birthday, Peter Pan offers group rates for parties of 12 or more and displays the birthday boy or girl's name on the front sign.
Top Golf Austin
2700 Esperanza Crossing
Austin, TX 78758
512-222-5950
Top golf features 100+ climate-controlled hitting bays, Angry Birds game, Toptracer shot tracer, full-service restaurant & bar, over 200 HDTVs, and free Wi-Fi. Top golf also has several quality amenities, including a rooftop terrace with a fire pit, private event spaces, and meeting rooms.