Are you a hunting enthusiast looking for your perfect property in the Lone Star State? Look no further! Texas real estate trends now cater to the hunting community, offering exciting opportunities and amenities that align with your passion for the outdoors. In this blog, we'll explore the growing popularity of hunting-focused realtors with specialized knowledge about hunting properties and local regulations. Discover the hunting-friendly community amenities and flexible lease options that enhance your hunting experience without the commitment of property ownership.
Moreover, we'll delve into the investment potential of Texas hunting land, offering attractive returns and valuable tax advantages. From wildlife conservation to portfolio diversification, there's more to Texas hunting land than meets the eye. Join us as we uncover the rising demand for hunting properties and explore the considerations for finding your perfect retreat. Embrace the thrill of hunting in Texas' vast and diverse landscapes, and let the real estate market cater to your passion and lifestyle.

Catering to the Texas Hunting Real Estate Need
Growing Popularity of Hunting-Focused Realtors
One notable trend in the Texas real estate market is the emergence of hunting-focused realtors. These real estate professionals possess specialized knowledge about hunting properties, local hunting regulations, and wildlife management, making them invaluable resources for hunting enthusiasts looking for the perfect property. They can guide potential buyers through various hunting-friendly neighborhoods and provide insight into the best hunting locations within each area. Many of our agents here at DMTX and TexasLand have extensive hunting and real estate knowledge to help you find the property that fits your needs and wants.
Hunting-Friendly Community Amenities
Today's hunting community seeks more than just a plot of land; they desire a lifestyle that revolves around their passion. Real estate developments increasingly offer hunting-friendly community amenities, such as private shooting ranges, hunting lodges, and access to hunting clubs. These amenities, such as those at Big Easy Ranch, enhance the hunting experience and create a close-knit community of like-minded individuals.

ROI and Beyond for Texas Hunting Real Estate
The Rising Demand for Texas Hunting Land
Texas has long been a prime destination for hunting enthusiasts due to its abundant wildlife, which includes white-tailed deer, wild hogs, turkey, quail, and more. As more people discover the joys of hunting and seek private, exclusive hunting experiences, the demand for hunting land in Texas steadily increases. This rising demand bodes well for potential investors looking to enter the market.
Potential ROI of Texas Hunting Real Estate
Hunting land in Texas can yield attractive returns over time. Land appreciation is significant, especially in regions with solid hunting traditions. Landowners can generate income through hunting leases, granting hunting rights to individuals or groups for a specified period. These leases can contribute to the overall ROI.
Tax Advantages of Owning Hunting Land
Owning hunting land in Texas comes with several tax benefits for investors. The state offers various property tax exemptions and wildlife management tax valuation programs. These incentives can reduce the tax burden on hunting properties, making them even more appealing to potential investors.
Wildlife Conservation and Property Value
Wildlife conservation plays a crucial role in hunting land investment. Landowners who actively manage and preserve wildlife habitats contribute to environmental sustainability and enhance the appeal and value of their properties. Conservation efforts can attract hunters who appreciate the opportunity to hunt in a well-maintained and ecologically balanced environment.
Diversification of Investment Portfolio
Hunting land can be an excellent addition for investors seeking to diversify their portfolios beyond traditional assets. Land investments tend to be less volatile than stocks or other financial instruments, providing a stable foundation for a diversified portfolio. Moreover, the inherent value of land is tangible and can serve as a hedge against inflation and economic uncertainties.

Considerations For Finding Your Perfect Retreat
Location, Location, Location
The first and foremost consideration when selecting a hunting cabin is its location. Look for cabins near prime hunting areas, national forests, or wildlife management regions. Easy access to hunting grounds will save you time and effort, allowing you to maximize your hunting experience.
Size and Capacity
Consider the size and capacity of the hunting cabin based on your hunting group's needs. A cabin that comfortably accommodates your hunting party with ample space for gear and equipment is essential for a hassle-free hunting trip.
Amenities and Comforts
While hunting is an outdoor adventure, a well-equipped hunting cabin should offer essential amenities and comforts. Look for a functional kitchen, comfortable sleeping arrangements, heating, cooling, and sufficient bathroom facilities.
Storage and Gear Maintenance
A hunting cabin with adequate storage space is a boon for hunters. Look for houses that offer secure storage for firearms, hunting gear, and other equipment. Additionally, facilities to clean and maintain your gear will add convenience to your hunting routine.
Water and Power Sources
Ensure that the hunting cabin has a reliable water source and power supply. Access to fresh water and electricity makes your stay more comfortable and facilitates essential tasks during your hunting trip.

Available Hunting Ranches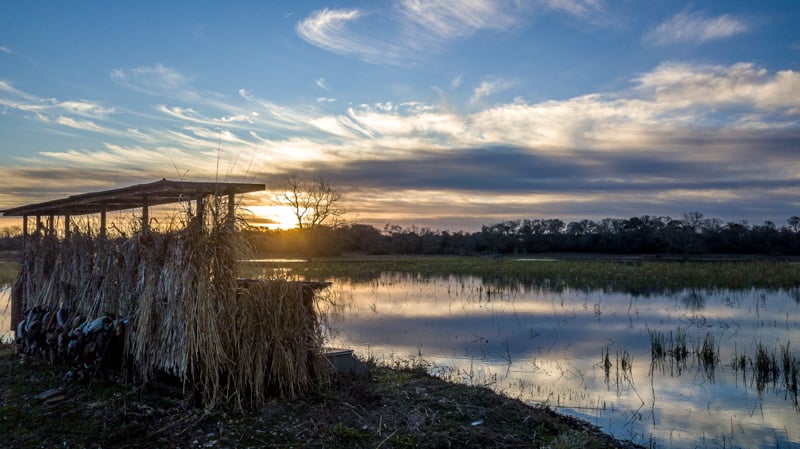 Situated amidst the rolling hills and captivating landscape of Big Easy Ranch, this incredible area has picturesque lakes, lush woodlands with huge pine and oak trees, winding creeks, waterfalls, and a meticulously designed 27 holes of golf, including a 9 hole par 3 golf course and a new world-class 18 hole championship golf course.
There are 1,200 acres of hunting land that encompasses whitetail deer and exotics that include red stag, trophy axis, fallow, blackbuck, aoudad, Texas Dall sheep, Transcaspian urial, and ibex, to name a few.  
Currently, there are two available properties: a luxury home encompassing a living area of 7,439 square feet and a lot that is ready for you to build your dream house.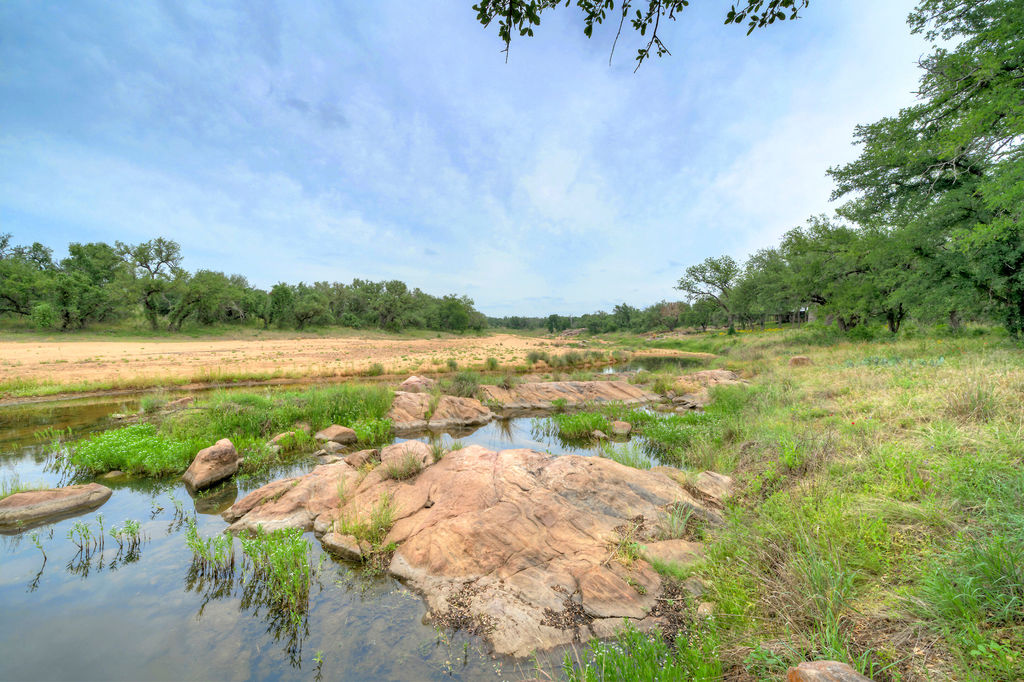 This stunning Hill Country ranch boasts 700 acres of pristine land, just 15 minutes West of Llano and a little over an hour from Austin. Offering end-of-the-road privacy, the entire property is high fenced. The ranch includes three homes: a 3-bed, 3-bath main home on the water, a 2/2 guest house, and a 3/2 caretaker's residence. With a healthy population of Whitetail deer, this ranch is a hunter's paradise.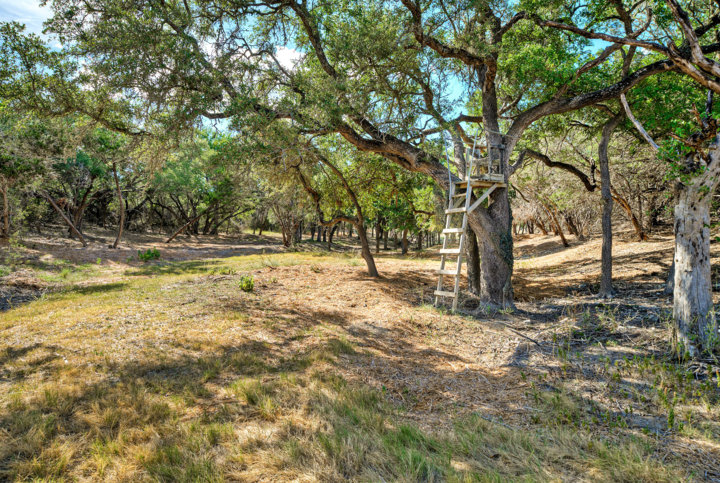 An incredible Hill Country Ranch, a hidden gem nestled amidst the picturesque vineyards between Johnson City and Fredericksburg. Prepare to be captivated by stunning views, ultimate privacy, and abundant space on this sprawling property. Spanning over 260 acres, this ranch has intentionally preserved heavily wooded areas to accommodate the abundant wildlife, creating an ideal environment for hunting turkey, whitetail deer, and axis.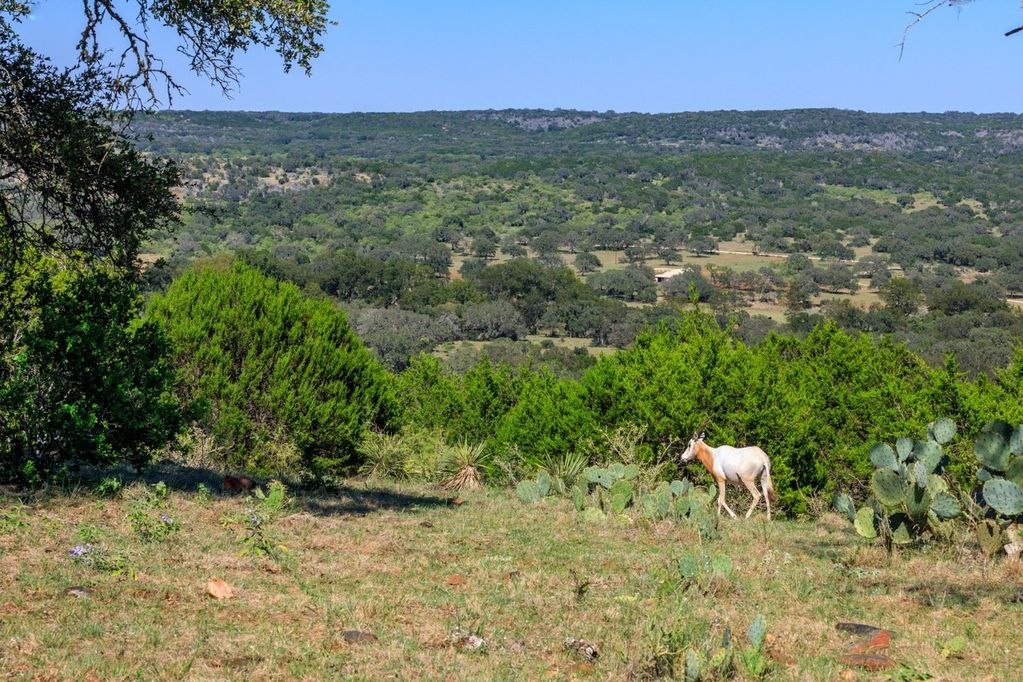 A phenomenal Hill Country ranch just outside of Llano and just over 1 Hour from Austin. 312+/- acres, this ranch is entirely HIGH fenced. The ranch features several species of exotic game. There is also a very healthy Whitetail deer population. Hogs and wild turkeys are also available to hunt. The ranch has many nice water features, including one lake, wet weather creeks, and small ponds. The ranch has an exceptional road system, making most of it accessible. Additionally, a 3/3 brick home, a 3/1 bunkhouse, and 2 barns. There is a large pump house storage box and 1 electric well plus one windmill.
Texas' vast landscapes and growing demand for hunting properties have shaped exciting trends in the real estate market. Hunting-focused realtors and hunting-friendly amenities make finding your dream hunting property easier. Investors can expect attractive returns and tax advantages while contributing to wildlife conservation. Diversify your portfolio with stable land investments and indulge in a hunting lifestyle. Embrace the opportunity to immerse yourself in Texas' wildlife and fulfill your passion for hunting in the Lone Star State.